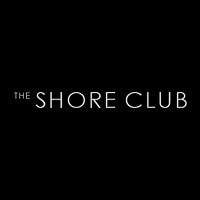 The Shore Club is right in the heart of Canada's capital city in downtown Ottawa. Located in the recently renovated Westin Ottawa, the restaurant is steps away from a number of attractions and historic sights, including the scenic Rideau Canal and Parliament Hill. The restaurant interior is reminiscent of art deco ocean liners, recreated in a decidedly contemporary fashion. An interesting collection of art work adorns the wood panel and suede walls. Whether guests are in the cocktail bar, main restaurant or private dining room, they will be able to marvel at beautiful works of art. The private dining room features a spectacular oversized painting by renowned Vancouver artist Shannon Belkin. Belkin is known for her larger-than-life oil paintings that capture the inner spirit of her subject. The example that hangs in the Rideau Room certainly lives up to that claim. It is a hauntingly beautiful image of a large shipping vessel forging through the rough seas.
Please click here to see full details.
Warning!
Future Watchers is not afiliated with CDM Media. The link on their website to ours does not indicate any relationship, and appears to be intended to deceive.